KEEP ME AROUND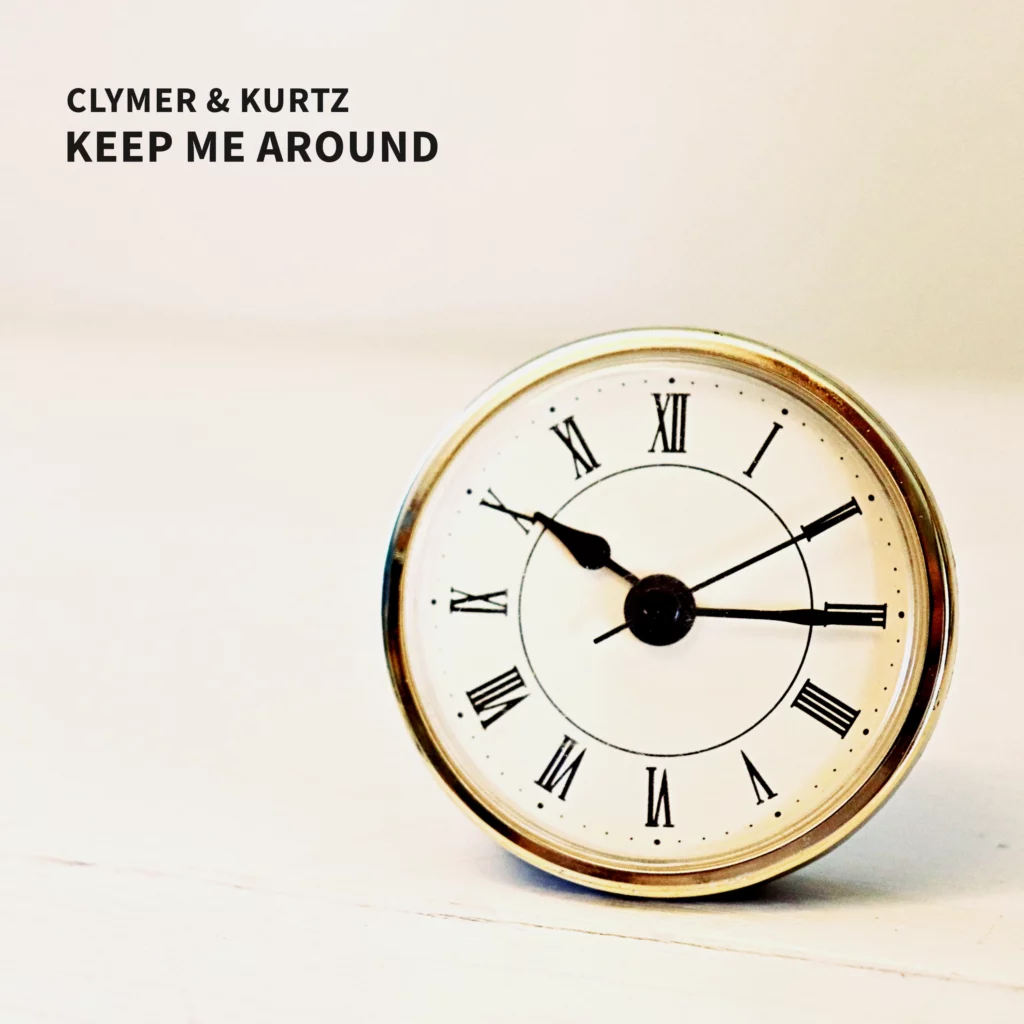 © 2022 by Clymer & Kurtz
1. Keep Me Around
2. Hazy Mirror
3. Sinking Ship
4. A Little More Apart
5. Invincible
6. Original You
7. Like a Ballad
8. Invocation (Light a Candle)
9. Victory
10. Love and Thirst
11. Words Make Me Wonder
Vocals, guitar, piano, and tambourine:
Maria Clymer Kurtz
Vocals, guitars, ubass, other instrumentation, tracking, mixing, and design:
Christopher Clymer Kurtz
Harmony vocal in "A Little More Apart":
Noemi Clymer Kurtz
Mastering: Chris Jackson
Lyrics:
Keep Me Around
© 2018/21 by Christopher Clymer Kurtz
Looks like you've got it all under control
You don't need me around here anymore
I thought things were good while they lasted
But I guess you wouldn't call it fantastic
Isn't any wagon wheel to keep me around
I'm just an old-time tenor with an old-time sound
There were days I thought I was hot stuff
Ran that line until I ran out of luck
Isn't any wagon wheel to keep me around
Doesn't take much new to make me feel old
Now you're giving me a timepiece covered in gold
Out with yesterday in a heat wave
So long, you can dig your own grave
You've got it all under control
I gave it everything
---
Hazy Mirror
© 2015/21/22 by Christopher Clymer Kurtz
I don't know where to go from here
Time has told and the end is near
The bright horizon's looking like a hazy mirror
Things I thought I'd figured out are not so clear
Lofty dreams, castles in the sky
Some folks give their all to try
To make that crystal ball come true like make believe
Imagine they have what it takes for anything
I don't know where I thought I'd be
But everything seems out of reach
The sun won't shine forever, so they say
And my vision's getting dimmer day by day
---
Sinking Ship
© 2015/21/22 by Christopher Clymer Kurtz
Take a deep breath on a big sea swim well
Let your own spark fly
Sinking ship – you'd better swim well
The first splash is a tough sell
Ride the waves or fight to win
Take a deep breath, you're going in
The same old same old takes a toll
Hard times are the best time for rock and roll
Spring a dive, turn a flip
Ripple in the sunshine, and tumble in
You took the myth to heart
Life a straight jacket, following a chart
The winner's always the tide
Day after day after day from nine to five
Fire in the cabin – whatcha gonna do?
Water on deck is the end of you
One second, last chance, gotta get away
Let your own spark fly in the light of day
---
A Little More Apart
© 2021 by Christopher and Maria Clymer Kurtz
Am I in a crowd
I can't hear a word you're saying
You're so loud
Am I upside down
I can't read your face
Smile or frown
Every go at getting nearer
We get a little more apart
I don't hear you calling
When I try to hold you closer
I still can't feel your heart
I can't hear you calling my name
Am I alone
Though I'm right beside you
I'm not at home
How have we changed
Our familiar landscapes
Seem strange
Maybe it's just me
Or maybe we're both jaded
Where's this gonna lead
Maybe our map's outdated
Nowhere left to turn
straight ahead's a dead end
Here we are once again
---
Invincible
© 2013/18 by Christopher Clymer Kurtz
You never think that you are wrong
That little voice is long gone
If someone disagrees, charge on
Self doubt once fought you, but you won
You are invincible
You'll never play the fool
Collected, calm, and cool
For now
Others melt away, exposed
Shaky ground beneath your pose
Stockade of timbers that could fall
Now raise your fists against the wall
Danger won't laugh at you
And hustlers pay their dues
Time will wait in queue
You are invincible
You're not invisible for now
---
Original You
© 2021 by Christopher and Maria Clymer Kurtz
There may be millions of people who feel
Just like you, ordinary
You're standing in the doorway, wind blowing in
A lightning bolt in the thunder and rain
Cutting through dark clouds in the sky
Feet on the ground, you're ready to fly
There may be millions of people who feel
Just like you, ordinary, no big deal
But you're the original you
Every single day is new
Feed the monster lurking under your bed
Free the dragon breathing fire in your head
Get to know the ghosts inside
Your shadows don't have to hide
It's a matter of faith, it's a leap of flesh and bone
When you take to your wings
you're never on your own
---
Like a Ballad
© 2015/21 by Christopher Clymer Kurtz
Like a ballad with no melody
A fragment of a memory
A garden lying fallow, waiting to be sown
Like a manuscript stuffed away
Or sleeping through a sunny day
Fishing line left tangled at the creek last summer
I picked him up on 81
A dusty summer afternoon
He asked me for a dollar
I lied that I had none
We didn't talk for quite a while
Watching signs, marking miles
He shook his head
Told me he was far from home
I pulled up to the corner store
Just as she came out the door
With a pair of tickets
Desperation made her sure
No dice, back in for more
Another chance to beat the score
I watched while I was pumping gas
Maybe this would be the one
He kept his face behind his sign
"Need food" hiding his eyes
Red apple by my seat
But the light turned green
The car behind me wouldn't wait
So I sped onto the interstate
Took a bite and hit the road
Pedal to the floor
Like a gambler or a wanderer
So many lessons left to learn
Always searching for that perfect hand
So much broken
So much burned
---
Invocation (Light a Candle)
© 2021 by Christopher and Maria Clymer Kurtz
I've got no place to go today
Nothing to buy, no need to say
A prayer or anything else
Light a candle
Rockets reach beyond the sky
Forests up in wildfire
Save a dollar, earn a dime
Every cent that's spent is burning time
Every moment a shooting star
Fleeting as the dawn
Every day an invocation
Here, and then we're gone
You've got a list, got a mission, gotta know
Lifetime spent away from home
Don't wanna knock what gets things done
But the place I'm free is with the one I love
A temple made of wood and gold
Can't take me home when I am old
A morning song, an evening hymn
We blaze and scatter sparks and dim forever
---
Victory
© 2015/21 by Christopher Clymer Kurtz
No fireworks or shooting stars
No flashy promenade
Cutoff jeans and your smile
Forever if a day
I don't want a show
I just want to know
I want to know you
No FDA guarantee
No label and no name
There are no rules for this medicine
Coursing through my veins
Bleed your cards
Count me in
And let the game begin
Leave the ace
That's up your sleeve
Gamble with a grin
Tonight the stars are bright
The cure delights
The cards are right
So give in, give in
Breath easy
Surrender is victory
The victory is giving in
It's giving in
---
Love and Thirst
© 2016/22 by Maria and Christopher Clymer Kurtz
"That love is all there is" and "Water is taught by thirst" by Emily Dickinson
That Love is all there is,
Is all we know of Love;
It is enough, the freight should be
Proportioned to the groove.
Water is taught by thirst;
Land, by the oceans passed;
Transport, by throe;
Peace, by its battles told;
Love, by memorial mould;
Birds, by the snow.
---
Words Make Me Wonder
© 2015/22 by Christopher Clymer Kurtz
Words make me wonder who I am
I was born when I was much younger
One day I'll walk with a cane, sleep in my chair
I met the love of my life in the book of joy in a dream
She gives me refuge, adventure and peace
Rise and shine
Now we bloom in a garden of days
Where the weather wants to try on all of our clothes
And we live, as we live, in ways uniquely our own